SEVEN HUNDRED COLUMNS UNDER MY BELT
Update on legislative bills (and also about me)
By Jerry Kopel
June 17, 2011
There were two sunrise bills and one sunset bill that you read about in my previous columns, and now you have the final read on what happened in those three regulatory attempts.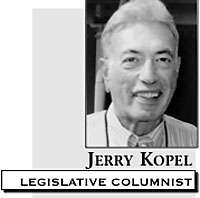 Senate Bill 207 by Sen. Lois Tochtrop, D-Thornton, and Rep. Kevin Priola, R-Brighton, would have regulated roofers. The bill passed Business Affairs and Appropriations with moderate amendments. A number of bills were laid over to a date after the Legislature adjourned. But SB 207 was defeated on second reading April 27, the only Senate bill I found to be so treated.
I thought the amount of insurance the bill required for roofing companies would have put many out of business unless the cost was reduced. I think a lot of voters may be angry at getting no response to the yearly complaints about roofers. Perhaps this bill was only a first step and a bill introduced in 2012 will have heavy lobbying in its favor.
Normally there is an amendment to the "report of the committee of the whole" which would have listed the votes for and against the measure. There was no amendment offered.
• • •
The 1-page House Bill 1195 by Rep. Bob Gardner, R-Colorado Springs, and Sen. Linda Newell, D-Littleton, passed on the last day of the 2011 assembly. It sets up a voluntary licensure of private investigators (PI).
The big difference is the term "license." You don't want to get caught using that word on your calling card unless you are licensed by convincing the director that you have 4,000 hours of verifiable experience or 2,000 hours plus sufficient education. You need knowledge of statutes dealing with investigation whether you have 4,000 or 2,000 hours of verifiable experience.
CRS 12-58.5-104 (1) (b) states, "Nothing in this article requires private investigators engaging in private investigation in this state to obtain a licensure under this article."
It costs you money and subjects you to disciplinary action as a licensed PI. It is voluntary now, but knowing what is coming after a majority of the PIs become licensed (LPIs)... that is when the amended law will (I believe) be changed to also cover ALL the non-LPIs, doing away with unlicensed PIs.
• • •
One new law, Senate Bill 187 by Sen. Linda Newe, D-Littleton, and Rep. Rhonda Fields, D-Aurora, amends regulation for 18,000 to 19,000 persons working in mental health occupations. By fiscal year beginning July 1, 2012, the fiscal note expects new authority for mental health boards to level administrative-type fines will produce greater than $2 million dollars annually.
It covers psychologists, social workers, marriage and family therapists, licensed professional counselors, registered psychotherapists (formerly the grievance board) and an addiction counselors' board.
The most diverse group within mental health occupations are the unlicensed psychotherapists who will now be "registered" instead of just being in the database. There is no minimum education requirement for the registered, so the amount of education varies from high school to a Ph.D.
The "registered" are "regulated" and those who are registered can use the term "regulated" and "registered" along with "psychotherapists" since they are required to know the statutes related to their occupation. They are regulated under many of the same disciplines as the licensed psychologists.
Psychotherapists have to tell patients the difference between licensing, registration, and certification including the educational experience and training required. As more information is required from registered persons, the more open the regulated unlicensed persons can be to punishment for failure to supply what the statute requires.
Presently the mental health boards have four public members on the board unconnected to the profession and three members who are from the profession covered. That changes and SB 187 gives the professional members four seats to three seats for public members. Legislators should study the number of complaints filed after July 1, 2011. How many of the complaints resulted in disciplinary hearings.
• • •
The age of 80 is an unwelcome boundary. Today 70 is almost as good as 60. But 80 is more like 90 on some days. I passed 80 a few years ago and don't enjoy the daily "If I get up what is going to go wrong today?"
Jody contacted me in December of 1992 as I was retiring from the Legislature. She asked if I would like to be a columnist for The Statesman. My first column appeared in December of 1992. More than 700 columns later, I am still writing but not on a given schedule or a promise of being printed.
Depending on my health at a particular time, I will present information you might not get otherwise.
June is a good month to do this. June is my 83rd birthday month and my 59th anniversary of marriage to Dolores.
The nice thing about the several decades since I began these columns is the response from readers of The Statesman wherever I travel in Colorado. These are strangers and our one connection is "I write and they read."
They read and come up with a hand out to shake. And I am so grateful that they care to do that.

Jerry Kopel served 22 years in the Colorado House.